How to Address the Growing Behavioral Health Crisis Among Seniors
How to Address the Growing Behavioral Health Crisis Among Seniors
Behavioral health conditions such as depression, anxiety, and substance use disorders are not always easy to recognize in older Americans even though these conditions affect significant and rising numbers of seniors every year. Today, 1 in 5 older adults experience a serious mental health disorder, a number that is expected to double to affect 15 million by 2030, according to the Substance Abuse and Mental Health Services Administration (SAMHSA).
Because these conditions are often hard to spot or are missed entirely, unaddressed behavioral health challenges can lead to lower quality of life, isolation, worsening chronic conditions, and a risk of death through suicide or substance abuse. These situations often lead to largely avoidable costs that can approximate four to five times the average healthcare spending of the general population, according to a recent McKinsey & Company report. Seniors face a number of unique challenges associated with aging that can cause or increase the risk and severity of behavioral health issues, such as the death of friends and family members they've been close to for decades and the seismic life changes that come with new stressful life events, including retirement, increasing dependence on others, relocation, or a reduction in financial security.
Given that over 20% of seniors have a mental health diagnosis, the prevalence of comorbidities with chronic medical conditions is significant and concerning as this portends worse outcomes and raises costs. For example, one study revealed that patients with depression and cardiovascular disease have lower rates of medication adherence, increased rates of smoking, and lower levels of physical activity, all of which contribute to worse cardiac outcomes and potentially avoidable costs. A report from the U.S. Centers for Medicare & Medicaid Services found that Medicare enrollees with both a behavioral health diagnosis and at least two comorbid conditions had double the healthcare costs of those with none of these diagnoses. With five comorbid conditions, the costs increased fivefold. Due to the challenges that many behavioral health patients face, patients with these diagnoses use more medical resources and drive up healthcare costs, as they are more likely to be hospitalized for medical conditions and readmitted frequently to the hospital.
Despite the rising numbers and healthcare costs associated with this vulnerable Medicare population, engaging seniors with unaddressed behavioral health needs and other chronic medical conditions can present significant challenges for health plans. Successfully identifying and engaging this population to reduce costs and improve outcomes requires a whole-person approach that comprehensively addresses seniors' behavioral health, physical health, and social determinants of health.
Five Key Challenges Health Plans Need to Overcome to Engage Seniors in Behavioral Health
Health plans recognize the growing challenges and rising costs of seniors requiring behavioral health treatment, but managing behavioral health, particularly given the specific challenges of this population, can be difficult.
Identification: Due to stigma and ageism, many seniors, despite knowing they have an issue, may avoid care, especially as compared to younger adults. Other seniors may not be diagnosed because symptoms are easily missed or may be attributed to the aging process. Typical targeting algorithms may not accurately identify these members, making finding seniors with behavioral health challenges very difficult.
Engagement: Seniors face specific barriers to behavioral healthcare that require a tailored approach to engagement. Persistence, trust, empathy, and the instillation of hope are essential elements to build required rapport and retention, but many health plans lack the training and resources for effective outreach.
Barrier Removal: Even when seniors are initially engaged, they often cite objections or barriers to care including social determinants of health, such as lack of transportation, economic concerns, health literacy or personal concerns, such as stigma and fear. If health plans lack the resources and training to address these barriers, seniors will continue to avoid care.
Treatment: Plans may have insufficient resources or programs to address the behavioral health requirements of Medicare populations, especially given the growing need.
Network: Systemic challenges such as lack of sufficient provider access, availability, or adequacy contribute to care avoidance or network leakage and remain an ongoing focus for many health plans.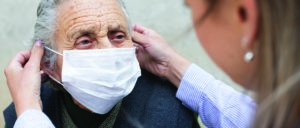 Behavioral Health Conditions Commonly Affecting Seniors
Behavioral health problems are associated with higher healthcare use, lower quality of life, increased complexity of illness, disability and impairment, caregiver stress, mortality, and risk of suicide, according to the NCOA. Issues that frequently affect the senior population include depression and anxiety, alcohol, substance and prescription medication abuse, and comorbidities with other chronic conditions.
Depression and anxiety: Depression, which affects between 3% and 7% of seniors, and anxiety, which affects 11% of seniors, are among the most common mental health issues experienced by older adults, according to NCOA. However, depression can be more difficult to diagnose in seniors given that symptoms present differently among them, according to Health Affairs. Patients are usually diagnosed with major depression when they exhibit five of nine "classic symptoms," but seniors often are not diagnosed because they experience only three or four typical symptoms. For example, seniors are less likely than younger people to feel sad or have crying spells, but more likely to complain of physical symptoms such as body aches, sleeplessness, and poor appetite.
Often, depression inhibits seniors' ability to enjoy life and function daily, contributing to poor health outcomes and high costs for patients and health plans. Older adults who are depressed often require more assistance with self-care and daily living activities and tend to recover more slowly from physical disorders.
Like depression, anxiety interferes with daily activities and worsens seniors' physical health, restricting their ability to perform daily activities and decreasing feelings of well-being. Anxiety disorders, too, frequently are unrecognized and undertreated in seniors due to a variety of factors, including medical comorbidity, cognitive decline, changes in life circumstances, and changes in the way that older adults report symptoms.
Further, seniors who experience a mix of both anxiety and depression exhibit poorer social functioning, greater use of healthcare services, more physical health symptoms, more thoughts of completing suicide, and a slower response to treatment.
Alcohol, substance abuse, and prescription medication abuse: The most common substance abuse issues experienced by seniors are drinking alcohol and the misuse of psychoactive medications. Each are growing problems for seniors – alcohol, in particular – as the average amount of alcohol use and binge drinking are increasing among adults ages 60 and older, according to NCOA.
Recent surveys have estimated that up to 16% of older adults are at-risk or problem drinkers, while 25% use psychoactive prescription medications that have the potential for abuse, making them more vulnerable to abuse than other age groups.
Seniors who experience behavioral health problems often are dealing with other health problems at the same time. In some respects, these concurrent issues reinforce each other, as people experiencing anxiety or depression, for example, are less likely to take care of their physical health, exacerbating physical health problems.
Compared with younger adults, seniors are more likely to experience problems with small amounts of psychoactive medications due to increased medication sensitivity and slower metabolism. However, because seniors frequently experience conditions such as pain, sleep disorders and anxiety, they are more likely to receive prescriptions for psychoactive mediations with abuse potential, including opioid analgesics for pain and central nervous system depressants like benzodiazepines for sleep disorders and anxiety.
Chronic conditions and comorbidities: Seniors who experience behavioral health problems often are dealing with other health problems at the same time. In some respects, these concurrent issues reinforce each other, as people experiencing anxiety or depression, for example, are less likely to take care of their physical health, exacerbating physical health problems.
Chronic conditions are the comorbidities most-often identified in the population of treated behavioral health patients, reiterating the strong correlation between behavioral health issues and physical disease, according to analysis published in Health Affairs. Alcohol use and depression are the most-frequently cited comorbidities in older adults, as 13% of people with lifetime major depression over the age of 65 also meet the criteria for lifetime alcohol use disorder. Additionally, rates of depression are much higher in older adults with medical illnesses, compared to seniors without illness.
In the broader population, 63% of healthcare spending among people treated for behavioral health issues goes to people who are also being treated for depression. Depression differs from most other behavioral health conditions in that people are frequently diagnosed with it by a primary care physician, as opposed to a behavioral health specialist.
At least 40% of patients who frequently visit their primary care providers exhibit a behavioral health issue, and primary care has become, largely unintentionally, the "de facto mental health system" for these conditions, which underscores the need for solutions that emphasize multidisciplinary collaboration, according to the Health Affairs analysis.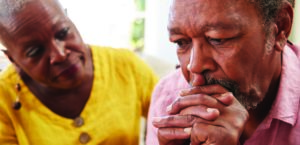 Why the Senior Population Is More Challenging to Engage
As the number of seniors in the United States who suffer from untreated behavioral health conditions complicated by chronic conditions continues to rise, utilizing an approach to identify, engage, treat and activate this vulnerable population is increasingly important to improve outcomes and reduce costs.
Addressing behavioral health is challenging across all populations, but seniors have specific attributes and barriers that must be considered. For example, most seniors' behavioral health problems are not easily diagnosed or addressed at the primary care physician's office or the emergency room – where as many of 80% of these individuals present. Their presenting symptoms may be attributed to normal signs of aging. They also require a substantial amount of time, effort, training, and persistence to effectively treat, something that a behavioral health specialist is usually more qualified to address.
Further, because it has become rarer for multiple generations of the same family to live in the same home in America, older adults increasingly are not being cared for by loved ones familiar with their physical and mental health.
Several other barriers exist that also may threaten seniors' access to behavioral healthcare treatment. While the use of telehealth has surged as a result of the COVID-19 pandemic, some seniors may lack comfort and familiarity with the technology needed to conduct virtual visits. Seniors who live in rural areas may not have access to broadband internet connections that are essential for telehealth. Social determinants of health issues, such as lack of mobility, reliable transportation, food, or income, can also limit seniors' ability to access care.
Additionally, cultural or personal barriers may get in the way of seniors' access to behavioral health services, as some members of "the Greatest Generation" may be reluctant to admit they've been experiencing mental health challenges, instead preferring to remain silent and attempt to push through on their own.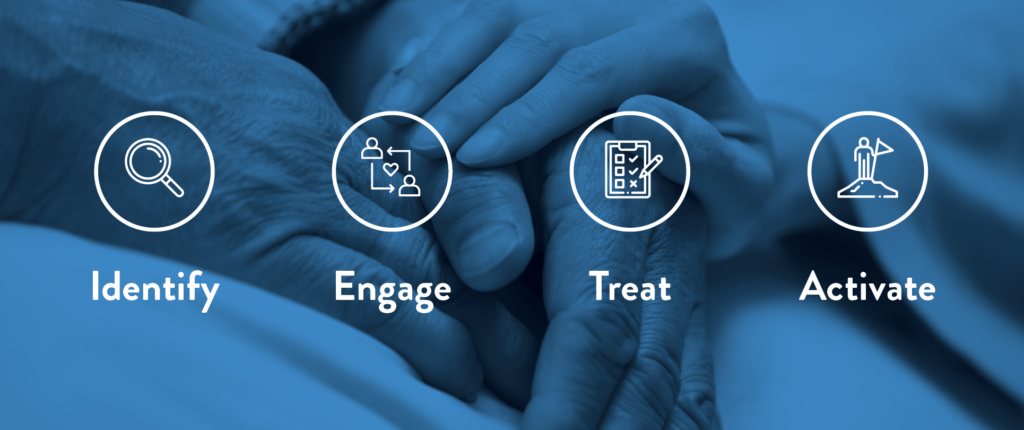 A Whole Person Solution: Identify, Engage, Treat, and Activate
Given the significant challenges of unaddressed behavioral healthcare in the senior population for individuals as well as for health plans, a new approach is required. Ontrak™ is an artificial intelligence (AI) and telehealth enabled behavioral health company that identifies people with unaddressed behavioral health conditions and chronic disease, removes barriers to care, and connects them to trained care coaches as well as in-network behavioral and physical health experts. Our behavior change program, which includes up to 52 weeks of therapist-led and coach-driven care, delivers validated cost savings of 40% to 50%, durable health outcomes, and industry-leading member satisfaction scores in the enrolled populations. We utilize a whole-person approach that is "fingerprinted" to address each individual's needs, with the goal of identifying hidden behavioral health conditions and barriers that drive unnecessary utilization, then connecting seniors to needed care resources. We focus on filling in the gaps in behavioral healthcare management that health plans struggle to address.
Identification: Using AI and a variety of data sources, Ontrak's analytics uncover populations with previously unaddressed behavioral health needs, even absent a diagnosis. Advanced algorithms impute who is most likely to benefit from treatment, which is typically between 3% and 5% of a health plan's total covered lives. Our model looks beyond factors such as age, in the case of Medicare, to find more predictive attributes. We have 21 different features related to co-occurring medical conditions, for example. We also have features related to utilization patterns, demographic factors, and prescription characteristics.

Engagement: Ontrak employs trained, dedicated teams of enrollment specialists, care coaches, and community coordinators who address social determinants of health support to remove access barriers, as well as drive industry-leading program enrollment, engagement with network providers, and program retention. Ontrak contracts with its health plan customers' network providers, providing training on the program's evidence-based methodologies and working with them to improve access and availability for Identify Engage Treat Activate © 2020 All Rights Reserved Ontrak, Inc. 7 both in-person and virtual visits. Importantly, Ontrak eases previously care avoidant members into the program by focusing on each individual's health goals and removing the obstacles in their path. For example, with seniors, special care is taken to avoid stigma by initially asking questions about conditions they are wrestling with that might indicate behavioral health issues vs. asking about their behavioral health directly. Motivational interviewing, an evidence-based approach to behavioral change, is utilized to empower members by identifying their values, needs, abilities, and barriers up front.

Treatment: Properly addressing behavioral health and chronic disease can be overwhelming for some seniors who may be unaccustomed to speaking with medical providers about anything beyond physical ailments. For this population, three critical elements of the treatment process are consistency, trusted relationships, and instilling hope. With up to 52 weeks of an evidence-based, personalized, coach-driven program, members are more likely to achieve significant behavior change that results in better health outcomes and significant cost reduction.

Activation: Upon successful completion of Ontrak's program, seniors can demonstrably overcome or better manage behavioral health issues that create barriers to obtaining care for other chronic conditions. They are more closely connected with their primary care physicians, behavioral health providers and health plans, and have realized durable behavior and lifestyle changes. Ultimately, these seniors have become "activated," meaning that they achieved the knowledge, skills, health literacy, and confidence to enable them to manage their conditions, improving their health and reducing medical utilization.
With the number of seniors anticipated to experience behavioral health issues rising steadily over the next decade, now is the time for health plans to take steps to prepare for this escalating challenge. Seniors present several unique barriers associated with behavioral health, including higher rates of other chronic conditions, underdiagnosis by medical professionals and significant life changes such as retirement and the loss of close family and friends. Health plans can affect behavior change in this hard-to-reach population by adopting a whole-person approach to caring for seniors with behavioral health challenges. Partnering with Ontrak, plans can meaningfully improve care and outcomes for this population while potentially realizing significant healthcare cost savings.
FOR MORE INFORMATION:
Web: https://ontrakhealth.com
Email: [email protected]
Toll Free: 1-866-517-1414
Main: 1-310-444-4300